Description
*ASSEMBLY REQUIRED*
This personalized clock is a beautiful compliment to your home decor! It also makes a great gift!
Orders typically ship 2-4 weeks from order date. Shipping times may vary as a result of an increased volume of parcels due to peak periods, especially Christmas. This item does not come with mounting hardware. We do not recommend hanging the larger clocks directly from the mechanism.
Please enter the text you want on each line. Our photos are only examples. Please do not enter any customization details in your order comments. The text you enter on each line will be exactly what you receive in your shipment. Please do not include Hyphens, dashes, colons, semi-colons, symbols, or emojis. Once your order is placed you have up to 24 hours to change any personalization. After 24 hours, all customizations are final.
It is completely unfinished and may have naturally occurring imperfections in the metal. Please handle with care!
Please watch the great instructional video showing how to assemble the clock! Click here for video!
**Make sure when placing the long hand on, the straight sides of the hole align with the non-threaded sides if the pin. The rounded ends will align with the threaded sides of the pin.
Any questions about personalization are answered here on our FAQ page.
The Brushed Steel option could have some imperfections due to it being finished with a clear powder coating (rather than a color coating). Any small imperfections in the metal will show. We will not accept returns/issue refunds due to these small imperfections in the Brushed Steel option.
Payment & Security
Your payment information is processed securely. We do not store credit card details nor have access to your credit card information.
Customer Reviews
Write a Review
Ask a Question
01/14/2021
Ali T.
United States
Great product
Love it! Thanks
01/13/2021
Denise M.
United States
personalized clock
It is very pretty and very unique.
01/13/2021
Terry W.
United States
Excellent Gift!
A very smooth experience and wonderful craftsmanship! I gave these to my 3 daughters and kept one for myself! Well worth the time and money!
01/11/2021
Gloria T.
United States
Wall clock
Just had our Xmas due to COVID and my son loved every bit of it was not expecting it. Thank you
01/05/2021
Chuck N.
United States
Good news and *** news.
I bought this as a gift and I have not seen it. The report I get is that the metal portion is super. The clock arms and mechanism however, are so flimsy that they do not plan to use it as a functional clock. They'll probably hang the unit with the arms pointed at 4 and 8 and let it go at that. Too ***.
01/05/2021
Mary K.
United States
Mixed feelings on clock
Very **** at the outset. The metal component is lovely. The clock does not come assembled and there were no instructions. Due to the Christmas holidays we were unable to connect with the company. We went to the website and found instructions. However after construction of a hanger for the clock we found out that it didn't work. We continued trying to contact the company by phone and email. No luck. We contacted our credit card company and put a hold on the payment. We were finally able to contact the company by phone. They agreed to send a new clock mechanism. This one finally was delivered and it works. I wish I had just ordered the flat iron piece.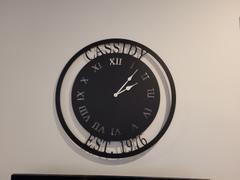 01/03/2021
Amanda M.
United States
Exceptional Customer Service!
We just recently received our order and have not had the time to mount them yet, but we love the look and feel of this product. We couldn't be more pleased! The customer service was fantastic as well. They were very quick to respond to help us correct our order and give us a status update when we asked. We will most certainly be a repeat customer and would recommend your company and this product to others. Thank you for everything!
01/01/2021
carolyn m.
United States
Personalized clock
Great gift! Great quality
12/30/2020
Kim J.
United States
Clock
It was great. We love that we could have it personalized.
12/30/2020
Melanie W.
United States
Clock
I loved it. So does my daughter and son in law. Thank you